Communications Ministry, KNUST sign eTransform deal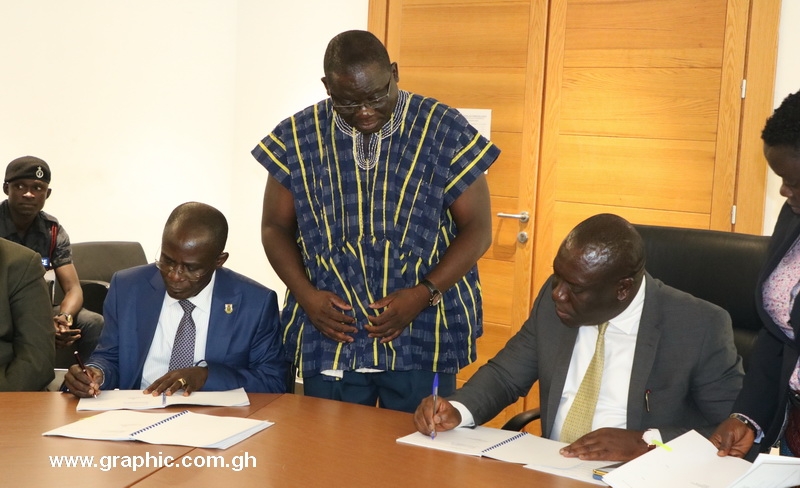 The Ministry of Communications has signed a Memorandum of Agreement (MoA) with the Kumasi Business Incubator (KBI) centre of the Kwame Nkrumah University of Science and Technology to champion the operation of all aspects of Government's iHub development in the Middle Belt of Ghana.
The MoA which was signed last Thursday at a brief ceremony at the Ministry of Communications, Accra, provides the framework within which detailed strategies and mechanisms of cooperation for the establishment and implementation of an Innovation Hub at the KBI are to be carried out.

The KBI's role will include the training and accreditation, certification, competition for ideas, business mentoring, access to finance and markets, development and revision of technical standards, testing procedures and laboratory policies, as well as providing technical support for iHub operations and consulting with stakeholders on mobile technology related matters.
Deputy Communications Minister, Vincent Sowah Odotei, who signed on behalf of the ministry, said government's commitment to digitize the economy is without question and entreated all to embrace the evolving change.

New Ghanaian Civilization
He said "The government of His Excellency Nana Addo Dankwa Akufo-Addo is committed to what we term as the new Ghanaian civilization and as part of that, and as we have demonstrated with our numerous electronics products – EIE, Paperless clearing systems, recently, a couple of weeks ago you are all aware we inaugurated the Case Tracking System with the Judicial Service where they are putting up a system where you will be able to track your case online, so that the issue of files being lost will be a thing of the past. We also recently came up with the Mobile Money Interoperability where you will be able to send money across networks where you will not be dedicated to other networks.
"We are also continuing with the eServices – ePassport, eProcurement, the e-Immigration, all as part of making sure that we digitize this economy."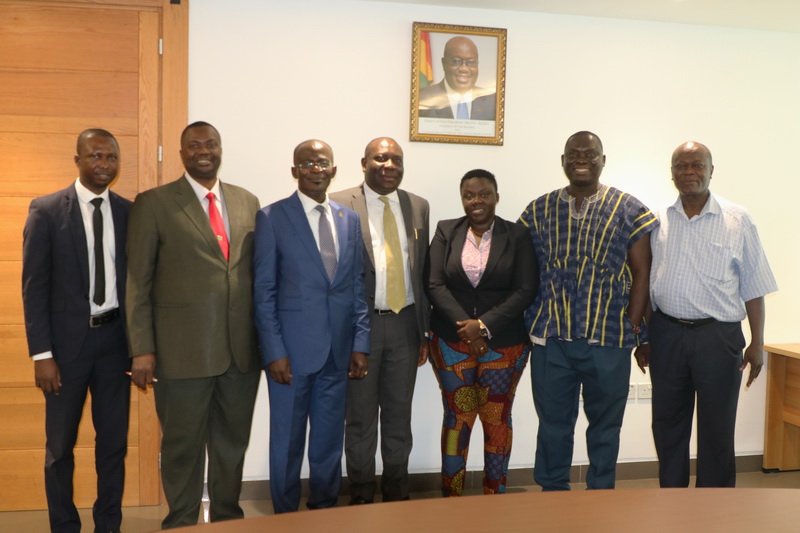 Sowah Odotei also pointed to ongoing efforts to monitor in real time, mobile industry revenues, and said these efforts will ensure that Ghana and its youth are not left behind but are key in the digital ecosystem of the phenomenal realities of the 21st Century.
He was grateful to the KNUST for agreeing to offer its centre as a continuation of an existing partnership under the eGhana Project to offer the youth the desired environment, guidance and mentorship to nurture and develop start-up ideas.
"When you engage with other players in the global ecosystem, everybody is talking about innovation, everybody is talking about ideas based on digital economy, based on technology that can provide solutions, and that's where the real money is. That is where our contribution and the role that we play in the global ecosystem will be felt. Ideas about business, ideas about technology are everywhere and I believe that we have to give the children of this country also the chance and the opportunity and to create the enabling environment for them to do that", he said.

The Vice Chancellor of the KNUST, Prof. Kwasi Obiri-Danso, who signed the MoA on behalf of the KBI, expressed gratitude that the ministry found in the university a capable partner.
He recalled an earlier successful undertaken and said the university, as a centre of science and technology remains the main driver of transforming Ghana technologically.
Prof. Kwasi Obiri-Danso regretted that most technologies in use in Ghana are foreign designed and often do not address local challenges and said the current project will seek to indigenize solutions to Ghanaian problems.
"If we have to transform Ghana technologically, the KNUST is the main driver, and as a country, we have been using a lot of technologies that are foreign. You look at Whatsapp, Instagram, they are all foreign, they don't often address the challenges that we have as a country and therefore this project is to be able to indigenize or find indigenous ways of solving our country's challenges, and bringing young, intelligent, smart SSS, university graduates together to think through the challenges that we have as a country. So we are challenging all of them in a room to come out with innovative ways by which we can move this country and her agenda forward."
He vowed the readiness of KNUST to lead Ghana's technology change by next year through the training of about 500 youth who in turn could train about 10,000 young men and women technologically as a ripple effect.
Source: graphic.com.gh